Want to know more about 3D printing, robotics, mechatronics, VR/AR or other maker stuff? Are you looking for a graduation project related to these topics? Or would you like to share your work/ideas with the Maker community at Industrial Design Engineering?
Join to our (informal) MakerLunch every wednesday from 12:30 – 13:30 in the Foundational Lab at Industrial Design Engineering.
Bring your own lunch!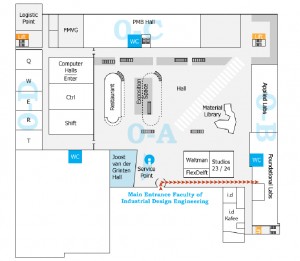 Address
TU Delft
Faculteit Industrieel Ontwerpen
Landbergstraat 15
2628 CE Delft
Presentation of specific interest?
Do you want to present something or are you interested in a specific topic?
Please contact us so that we can coordinate that the right people will be present that week.
Willemijn Elkhuizen w.s.elkhuizen(at)tudelft.nl or
Doris Ascherbrenner d.ascherbrenner(at)dudelt.nl